All hunts are fair chase no fences, primarily on State and Forest Grounds.  With some Private Access available.  We do not see how many hunters we can run though each year.  We are just a group of guys who like to hunt and would like to meet you along the trail.
---
Arizona, New Mexico, - Hunt Coues Deer, Mule Deer, Goulds Turkey, Elk, Javilena
We offer a full- or semi-guided Archery Hunts.  Our hunts include lodging with meals.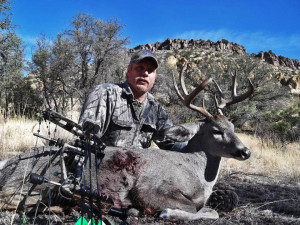 Elk- $5,500.00 
Deer Mule/Coues- $4,200.00 
Turkey/Javelina- $350/day
Please Contact Brian Eason for full details of Hunt Packages.
417-876-8982  beason@countryventures.com   
Give us a call! If we don't have the hunt you're looking for, we can at least swap stories.
We can video your hunt, too.  Click Here for more information.
Good Hunting!
Call Brian at 417-876-8982