Goulds Turkey Hunting
Come Hunt Goulds Turkey in Arizona with Country Ventures and you'll have plenty of opportunity to make your turkey harvest a success.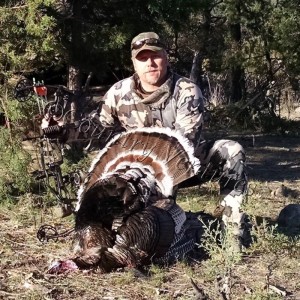 Hunting a Goulds Turkey
Wild turkeys have been classified as big game since 1913.  Although limitations have been placed along the way, today, fall hunting and spring hunting are by permit-only. In the spring, the number of gobblers taken is equal to or greater than the fall harvest.  In 2003, Arizona offered their first Gould's turkey hunt-permit since the birds extirpation in the early nineteenth century.
Description of Goulds Turkey
The Gould's Wild Turkey is the largest of the three main turkey species hunted in Arizona and one of the two native wild turkey species.  They resemble the Merriam's Turkey, but have longer legs, larger feet and larger center tail feathers than any of the other Wild Turkey subspecies in North America. Gould's differ by having distinctive white tips on the tail feathers and tail rump coverts which usually separate to show an "eyelash" appearance. Lower back and rump feathers have copper and greenish-golden reflections, not like the faintly iridescent velvety black found on the Merriam's. Gould's body plumage is said to be somewhat blue-green in coloration. 
While hunting with Country Ventures, you will be hunting on ranches that are highly managed year round.  We have had a 100% success rate on all our Gould's Turkey hunts regardless of the weapon used. So, contact us to reserve your Gould's turkey hunting experience.
General Information
Breeding Period: Late April-May
Young Appear: June
Average Number of Young: 9
Distribution: 5K-9K ft, along the Mogollon Rim and White Mountains
Habitat: Pine forests
Food Preference: Green weeds, insects, juniper berries, acorns, grass seed, mast, and pine seeds
Range: 5-30 sq. miles
Live Weight: M-15-30lbs.; F-8-12lbs.
Predators: Bobcats, coyotes, foxes, Eagles, and great horned owls
We can video your hunt!  Click Here for more information.
Good Hunting!
Call Brian at 417-876-8982
Some information gathered from Arizona Fish and Game and Wikipedia.